RTF (Rigid Thermo-Foil) Doors
What is "RTF" vs. Refacing with solid wood?
Perfect for those looking for a painted look, or if a complete reface of your kitchen is out of your budget
RTF doors and drawer fronts are not painted. They are "medium density fiber core" panel with rigid thermo-foil applied. This is a very unique and lengthy process that we can discuss more. Basically, they look like painted (or wood grained) doors and drawer fronts, but are much more durable than any painted door I have seen
Many refacing companies are applying the same RTF material to the cabinets and then add the new door and drawer fronts. I would not recommend this. I trust the RTF on the doors and drawer fronts (it is a multimillion dollar factory process) but I have simply seen and refaced too many kitchens where the RTF has peeled off the cabinets. This is mostly caused by lack of prep work required, the inexperience of the worker and bad glue or adhesive.
I have also seen many inferior RTF doors and drawer fronts that did not stand the test of time. I have traveled to most all of the big cabinet shows and found a company who makes VERY HIGH QUALITY RTF products.
My best advice is to paint your existing cabinets (or hire a professional painter) and have us install all new RTF doors and drawer fronts in a wide variety of designs and colors.
We can also build new cabinets and/or modify your existing cabinets to match.
Visit our showroom to see how nice this really does look!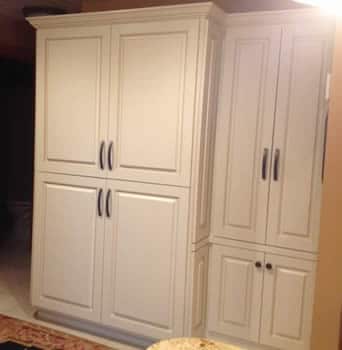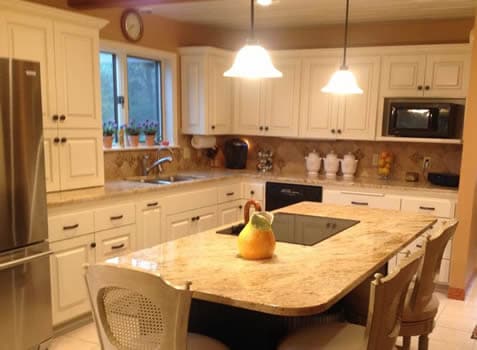 After photos. New large crown molding. Microwave in upper. All new drawers with full extension, ball bearing slides. False door panels on ends (sides of cabinets). Total cost=less than ½ the cost of new custom cabinets.